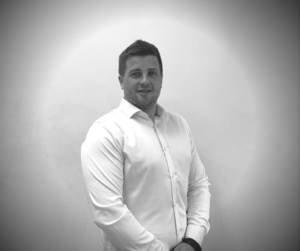 Tom Garvey – Managing Director
Tom completed a BA Hons in Financial Services in 2012 from DBS and commenced his career with Locumotion, part of Centric Health. He went on to work with TTM Healthcare in the UK recruiting nurses before moving back to help set up Spring Doc. In 2018,  Tom to set up Med Doc Healthcare and has seen the company become a prominent fixture in providing recruitment services to both the HSE, Department of Justice, Student Health, Out of Hours and GP practices across Ireland.  In 2019, Tom established Med Pharm who recruit pharmacist's and pharmacy technicians for all aspects of community pharmacy in Ireland.
Get to know Tom
Where are you from?
I am a born and bred south Dublin 'yaw' and although my accent is 'posh' I certainly wouldn't consider myself to be and wouldn't associate myself with the stereotype that comes with growing up in Dublin 6…yawn!
Why did you decide to set up a medical recruitment company?
I worked for some very well-known names in medical recruitment and learned a lot. I definitely wasn't always the best at taking advice from others and always being highly motivated, didn't really need much micro or macro management, I knew what and where I wanted to be (I am however eternally grateful to those who gave me the opportunity and you know who you are). I think I was always destined to be a lone-wolf and to date, I haven't regretted it one bit. Setting up your own company as the cliché goes, is definitely not for the faint hearted, you need resilience, perseverance and sheer bloody determination. There's two things you're doing in life and that's buying or selling, the common denominator is people and they can really test you.
What do you love about recruitment? 
I love the psychology aspect of recruitment, why people do what they do and why they do it. Dealing with both doctors and pharmacists at the best of times is challenging given their high IQ but in order to progress in life they say to surround yourself by those who are smarter than you. More recently I do take a lot of pride and joy being responsible for those I employ at Med Doc Healthcare and watching them grow. I'll hold my hands up and say I haven't always gotten it right but life is about learning and improving next time around.
Next or dream holiday destination?
A safari in Kenya (Masi Mara or Amboseli National Parks). Now more than ever those running volunteer organisations are really struggling. I've been so fortunate in life and thankful that I was reared in a good home, it would be nice to be able to spend my hard earned 'fortunes' on those who really need it and maybe meet David Attenborough. Plus who doesn't like animals that could swallow you in one gulp.
What is your favourite hobby?
I love sports, rugby & football as well as other sports but what I love doing most is spending time with my German Shepherd Lola who is always a bundle of joy and great to come home to every day after a hard days work. With COVID-19 I have been doing some gardening and planting and even though Lola has decided to rip up my plants that have cost me a bomb, she's still a gem!
If you could turn any activity into an Olympic sport, what would you have a good chance at winning a medal for?
Fifa on the PS4 or Mario Kart – I was always half decent at both and would back myself to take on anyone, any time, any place. I'm also a dab hand (or so I think) at debating with a never say die attitude, I'll just beat you into submission. Takers welcome…
What are three things on your bucket list? 
Travel the world (South America, part of Asia, parts of the USA, the Maldives and Bali. There is other destinations but I don't want to bore you any further…
Go on a Lions Tour and/or watch Ireland win the Rugby World Cup (if we don't bottle it each time we are tagged favourites)
Get a ticket on Elon Musk's first flight to the moon. I wasn't old enough when Concorde flew from London to New York in a record time of 3 hours 30mins which would have been pretty awesome. Yes, I have a need for speed.
Dr Hilary Garvey – Company Secretary
Hilary acts as company secretary for Med Doc Healthcare and ensures we meet all our legal and regulatory requirements in conjunction with both our legal team and finance team. Hilary is a dentist by trade and has over 40 years experience in her own private practice and with Centric Health. Hilary is always happy to provide advice and guidance on her experience in the healthcare field and is a real asset to Med Doc.
Jessica Vaughan – Compliance and Office Manager
Where are you from?
I was born and reared in Killiney, Dublin.
What attracted you to Med Doc & Med Pharm?
The fact Med Doc & Med Pharm is a start-up company with ambitious plans. As a start-up company the work you do is evident and I wanted to bring my previous knowledge and experience to help grow the company further. Working for a start-up offers you the chance to work as part of a small integrated team where teamwork and collaboration is everything. Also, the chance to work in a 360 role where I could learn about all aspects of the business was definitely something which really appealed to me and has proven to be the case thus far.
What do you love about recruitment? 
Working in recruitment can be both fun and challenging. I work better in a challenging role and my role in Compliance & Office Management in a sales environment really does just that.
Next or dream holiday destination?
Having arrived back from Australia at the end of last year, I wanted to return to see all my friends and family. But… as I was only there last year, this year I was planning a road trip across America. Unfortunately due to the global pandemic, my travel plans are out the window but it'll be the first place I go once all restrictions have been lifted, whenever that might be.
What is your favourite hobby?
I have 4 dogs (I know!!!) and during this pandemic they have been a God send, they always put a smile on my face when our daily routines have been curbed significantly! I love bringing them on walks in the Wicklow Mountains or down the beach on my lunch break. It's a great excuse for going out and getting some much needed fresh air.
If you could turn any activity into an Olympic sport, what would you have a good chance at winning a medal for?
Watching TV! Whether I am getting ready for a night out or cleaning the house I always have something on the box.
What are three things on your bucket list?
USA road trip, I haven't quiet worked out the plan yet but definitely want to visit Vegas and Nashville.
Make a surprise visit back to Australia to see my friends. Hopefully they aren't reading this!
I came home from Australia with one goal set in mind that that was to BUY A HOUSE! This is definitely objective number 1 on my bucket list (even though I have put it as #3).
Urvashi Gandhi – Account Manager
Where are you from?
I was born and brought up in New Delhi, India.
What attracted you to Med Pharm?
I take professionalism as my mantra to success and my professional roles define my personality, my career goal is to work in a firm that places priority on professionalism and organic growth. What better way to do this than working at Medpharm a perfect match of inclination and professional ambition.
What do you love about recruitment? 
In my view, success is no accident it is a result of learning, smart work and most of all, love what you do and own what you love. I started my journey in commerce, developing a keen interest in Human Resource Management and sequentially a career in recruitment, an outcome of academic knowledge, perseverance and most of all the attitude of commitment.
Next or dream holiday destination?
My next dream destination is Bali, ticking one of the things on my bucket list.
What is your favourite hobby?
My hobby is binge watching series, I have a record of doing this for 20 hours straight. Crazy? I know.
If you could turn any activity into an Olympic sport, what would you have a good chance at winning a medal for?
Giving makeover to my girlfriends. As I am the fastest, hope I am the next Usain Bolt.
What are three things on your bucket list? 
I would love to experience three elements of The Earth – Air, Water & Fire.
Explore the skies (Air) by jumping out of the plane and spreading my wings.
Water by exploring the oceans by deep water diving in Bali.
Inner fire by running ahead of fiery bulls in San Fermin, Festival in Spain.